Hurricane season runs from June 1st to November 30th. As a South Florida business owner, it is important that you have a business continuity plan in place in case of a hurricane or tropical storm. Every year south Florida businesses should hurricane proof their business and make sure their disaster recovery and business continuity plan is up to date.
As a business owner, you need to be prepared for the possibility of any form of severe weather and make sure your business and your staff is ready for any storm.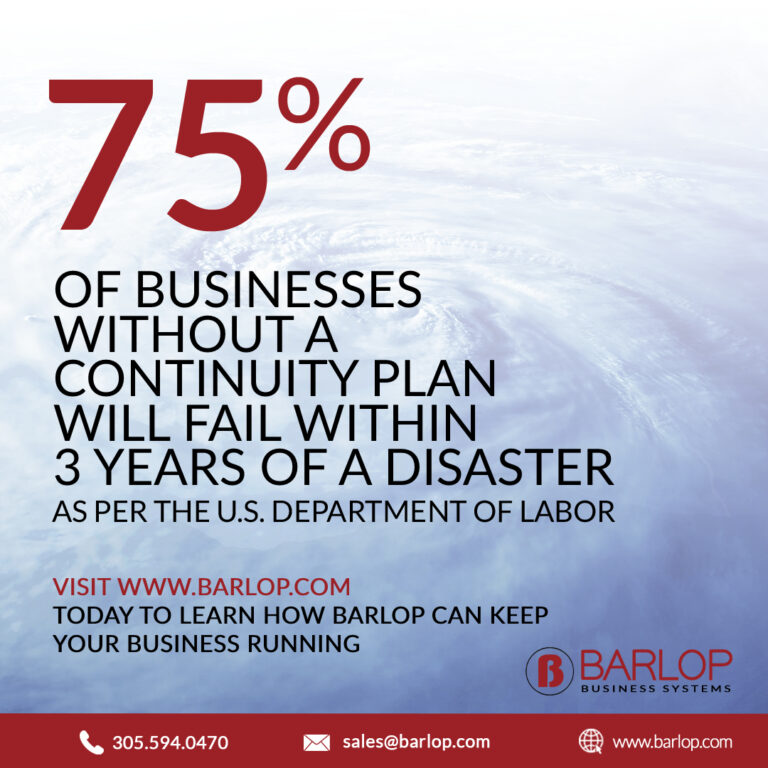 What to do with your Office Technology during a Storm

Office Equipment
Protect your multifunction device, printer, computers, and all electrical appliances from suffering severe and possibly terminal water damage by


DISCONNECTING ALL

electronics from the power source.

Keeping them away from exterior doors and windows.

Elevating them from the floor if possible.

Covering the equipment with plastic sheets or bags.

Servers
If you have a server in your home or office:


Have a battery backup.

Back up your server prior to closing down the office to onsite and online backup drive. 

Prior to leaving the office just before a storm, the server should be shut down to prevent data corruption.

Communication System
Make sure your business has an updated phone system that allows your team to answer calls from wherever they are so your clients can always reach you.


Is your company prepared for Florida Natural Disasters?
Here's what Barlop recommends you have in place before disaster hits:
BACKUP YOUR DATA.
And shut down your server right before the storm
HAVE THE MEANS TO OPERATE REMOTELY
Keep your employees and clients connected with Unified communications
ESTABLISH AN ON-SITE SUPPORT PLAN
and have multiple ways for clients And employees to contact you.
KNOW WHERE TO REQUEST SUPPLIES AND SERVICE
For your office equipment and IT support.
SECURE BARLOP AS YOUR RECOVERY SERVICES PROVIDER.  
Please contact us if you have any questions or need any assistance in preparation.
Due to the Storm and the cone of uncertainty of landfall to South Florida; We will follow Miami-Dade County's Advisory for this upcoming week. 
If they advise that Miami-Dade County businesses are closed, then we will close as well. If they don't announce any close of businesses, then Barlop will operate on its regular schedule.
Please feel free to contact us via phone, email, or at www.barlop.com  live chat, we will be available for support even if office is closed.