Leading Managed Technology Services Provider to Deliver Technology Webinar in Late April

Barlop Business Systems, a leading managed technology services provider (MTSP), recently announced that they will be hosting a webinar on April 20th, 2021 to help businesses understand how to optimize their productivity and increase profitability by utilizing the latest in business technology.
While Barlop has garnered a strong reputation in the business community over the past 38 years by serving the managed print and document imaging needs of its customers, many businesses are unaware that the company also provides a suite of other business technology solutions, ranging from phone systems to computers to managed IT services.
Longtime customers who've enjoyed the customer experience that Barlop delivers through its managed print services asked if Barlop was also capable of installing, servicing and optimizing other key business systems.In response to this demand, Barlop has spent the past few years completely transforming itself from being a managed print/document imaging company into a true managed technology services provider, capable of equipping businesses with competitive advantages through the implementation of advanced business technology.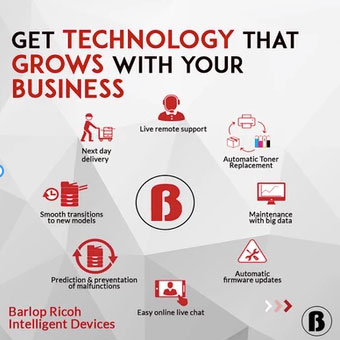 Monica Lopez, Vice President of Business Development states, "Technology is evolving at an even faster pace than it did ten years ago. The technological gap is widening, creating a disproportionate advantage for those who are utilizing technology in the right way to streamline their operations. We're excited to teach the business community how they can leverage all of the new innovations we're seeing to actually increase their profitability."
Over the past year, business owners were hit hard with unexpected interruptions. In Texas, business owners had to shut down during the freeze, as they faced a power crisis which put their operations and revenues on hold for several days. In other parts of the nation, COVID-19 mandates forced many businesses to halt operations or migrate to a remote working environment immediately, leaving many businesses in a state of disarray and reduced productivity. In Florida, as hurricane season nears, business owners are facing the need to prepare themselves for natural disasters and flooding. Regardless of where a business is operating, the need for business continuity plans have become self-evident. Businesses can no longer afford to shut down for days, or even weeks, without the ability to bring in revenue. Thankfully however, this is no longer a concern, as long as a business has the proper IT infrastructure in place to support a seamless transition to a remote work environment in no time.
"Technology grows at an incredibly fast rate, which is exactly why we're hosting our webinar. Our team of experts have been watching the technological horizon for years and in 45 minutes we'd like to summarize our findings and share what we've learned. There isn't a single industry that won't benefit from learning how new technology can reduce downtime, make workers more efficient and ultimately, increase bottom-line profitability," adds Lopez.
Join us, as we share with you how you can set up your business for long-term success with the all-in-one communications platform that goes wherever you go. Your phone system needs to be designed for flexibility, and mitigate uncertainty in an uncertain environment.
Contact us here to receive your registration Link for our Free Webinar on April 20th.