Barlop Business Systems Leadership Invited to Speak on Succession Planning at the 2022 BTA National Conference
Leading Managed Technology Services Provider Selected  to Teach Succession Planning to Peers During Panel Discussion
As a BTA member, Barlop Business Systems have been invited to guest speak on a panel discussion at the upcoming 2022 BTA (Business Technology Association) National Conference. The conference will take place on June 7-8, 2022, at the Fairmont Chicago, Millennium Park in Chicago, Illinois. José Lopez, general manager of Barlop, and Mallory Lopez, controller of Barlop, will be speaking on "Keeping it in the Family – Succession Planning in a Multigenerational Business." The panel will be moderated by Todd Lee, vice president of sales for Amur Equipment Finance.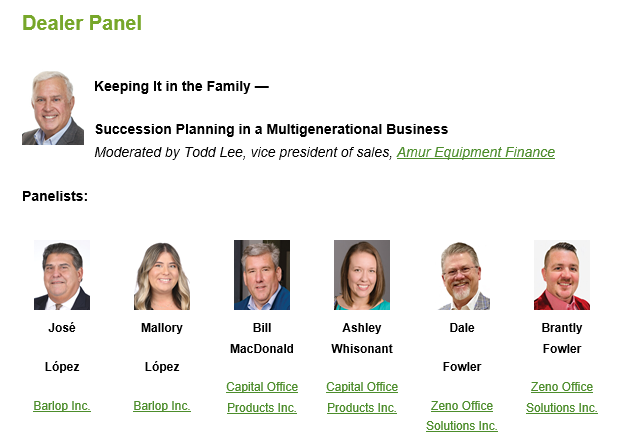 Over the past 40 years, Barlop Business Systems has built an extremely strong reputation in the industry, which is likely why the dealership was selected to participate in this panel discussion over hundreds of other qualified companies with similar subject knowledge. While several family members have been successfully incorporated into the business, José and Mallory Lopez (father and daughter) will be co-presenting at the event given the company's successful navigation of the nuances that arise when a business blends multiple generations into the same organization, especially when that involves family members. While there is a large number of family-run businesses across the nation, the broader takeaway that attendees will get from this educational session is how to facilitate collaboration, instill strong company culture and ensure that the principles behind a company's initial success are passed down to the next generation without stifling innovation and new ideas.

"With the Silent Generation, Baby Boomers, Gen X, Millennials and Gen Z all trying to work together in the same workplace, each generation possesses unique values, which each other generation must have an awareness of and more importantly, must also respect," says Mallory Lopez. "This is why exceptional communication skills are the foundation of all succession planning, because succession can only occur if everyone at the table feels heard.".
         Monica, Mallory and Michele Lopez all began working at the company after graduation from school, working in every area of the business so that they could develop the firsthand experience necessary to develop the mastery required to continue to succeed in the future. Even if business owners don't have family members in the workplace, they can benefit from this panel discussion because they're very likely to rely upon younger individuals in the future. In fact, according to Deloitte: "Millennials, who are already emerging as leaders in technology and other industries and will comprise 75 percent of the global workforce by 2025, want to work for organizations that foster innovative thinking, develop their skills, and make a positive contribution to society." While the 75 percent number is debatable, depending on the definitions used, Millennials will no doubt be a significant presence in the workplace. Anita Lettink a global thought leader and partner at Strategic Managements Centre, argues that this number is overstated and that "millennials reach[ed] their peak presence being 43.3% of the labor force," but the bottom line is that leaders need to understand the new core values, which are required to attract top talent in the modern-age.
"We're thrilled to share our experiences with such a prestigious group of individuals," says José Lopez, manager of Barlop Business Systems. "BTA is an excellent organization that we're glad to be a part of and we feel honored to participate. It's a privilege to be in a position to educate others and to share what's worked well for us, because we consider it our responsibility to advise our fellow entrepreneur, whether it's in the context of technology or simply in business itself. Our goal has always been to partner with our customers, to form a relationship with them that profits them over the long-term and to improve the industry itself, through our example."
ABOUT BARLOP
Barlop Business Systems is a family owned and operated business technology company that has been serving the South Florida community for more than 39 years. Its high-quality business products provide solutions for all phases of the document life cycle and measurably decrease printing and document management costs up to 40%. The company's reliable and consistent services maximize clients' workflow efficiency and performance. The company's local presence enables it to be faster, simpler, and easier to do business with.
Barlop Business Systems will prove that its "clients are its best assets" every time a prospective client is in the market to lease or purchase equipment, or requires service, parts, or supplies. Contact the company at (305) 594-0470 or visit www.barlop.com