Barlop has partnered with the Top Manufacturers in the industry including Meridian, Hikvision and Anixter, to bring to south Florida, the newest standard of safety to businesses, for employees and guests in the workspace. (Purchase Now)
Thermal cameras and kiosks come in a variety of sizes and functions and provide immediate and precise information. Thermal sensors are an extremely valuable diagnostic tool that can be used in many applications, including surveillance, and employee check in and identification. Barlop partners with the best thermal camera system technology manufacturers to assure a safe environment for organizations. These added services make your life easier by giving you global reach combined with local service excellence, tangible economic benefit, regulatory compliance, and risk reduction.
Thermal Camera's and Kiosks
Keep Employees and Customers safe

Proactively Enhance Safety of Workforce

Are the New Standards for Protecting Health in the Workspace
These new products are reliable, and lightweight, and come in a variety of uses and prices, and can also be included in your current or new leases.
Here are a couple of examples of the Thermal camera Barlop is currently offering.
Features check-in and temperature verification capabilities. The solution can also be programmed for facial identification, with users easily added in a few short clicks. Designed to help protect the health and safety of both employees and guests by preventing anyone with a temperature from entering a facility, alarms can be added to sound when those above the temperature  threshold and those without access attempt to enter.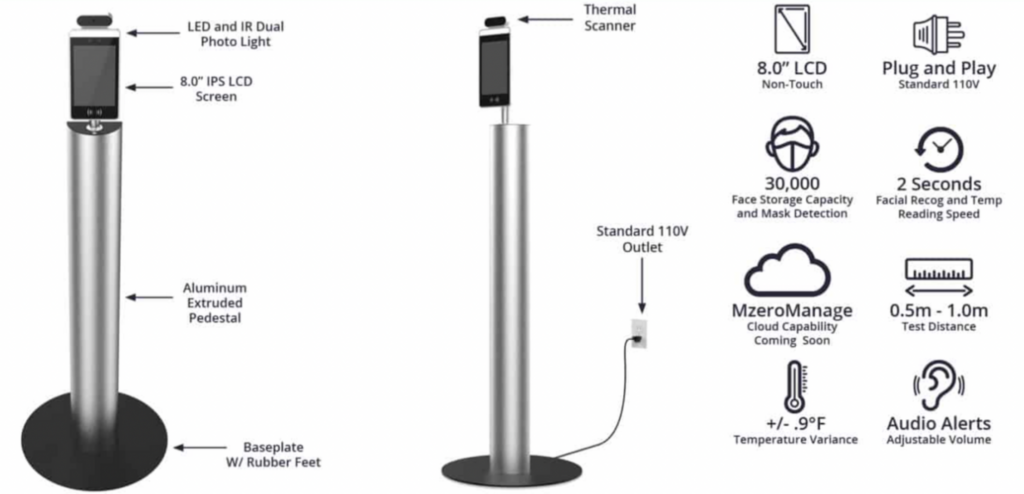 Temperature Screening Thermal Cameras:
All objects with a temperature above absolute zero emit thermal
radiation, even at low levels. This kind of radiation, invisible to the human eye, can be detected by thermal imaging sensors. Thermal cameras can produce images in the visual spectrum by detecting temperature differences between an object and its surroundings. The larger the difference, the bigger the contrast variety, making details visible. Compared to visible light cameras, thermal cameras can be used for applications in more challenging environments.
ADVANCED DETECTION ABILITY

TEMPERATURE MEASUREMENT

EXCELLENT ENVIRONMENTAL ADAPTABILITY

AUTO GAIN CONTROL (AGC)

DIGITAL DETAIL ENHANCEMENT (DDE)

3D DIGITAL NOISE REDUCTION (DNR)
Combining self-developed thermal imaging technology with Hikvision's extensive experience in the video surveillance field, we are equipped to provide a full range of thermal products – all of which are able to meet our customers' various requirements.