Your organization demands lean operations and the agility to move with the speed of modern business. Teams stuck in tedious, time-consuming processes with scattered, incomplete information work hard, but can't deliver the effectiveness they know they're capable of. Modern automated workflow and document management delivers team productivity to leap forward, driving new momentum that shifts strategy and resources from just getting stuff done to jumping into new growth.
More than ever, employees are working and accessing documents from different locations, whether in the office or at home. Because of this, a serious document and data security policy is no longer optional.
This webinar will provide an insightful discussion focused on a solution, DocuWare Cloud, for secured document archiving.
We will also discuss: • How to protect your most sensitive information by allowing only authorized users access for any device and any location; • How to store documents in one central cloud location with effortless storage, search, and retrieval features; • How to simplify audits and reduce the risk of non-compliance by easily providing documents to auditors with a searchable browser and more. Can't attend live? Make sure to register anyway and we'll send you a recording of the event. Email sales@barlop.com for registration link.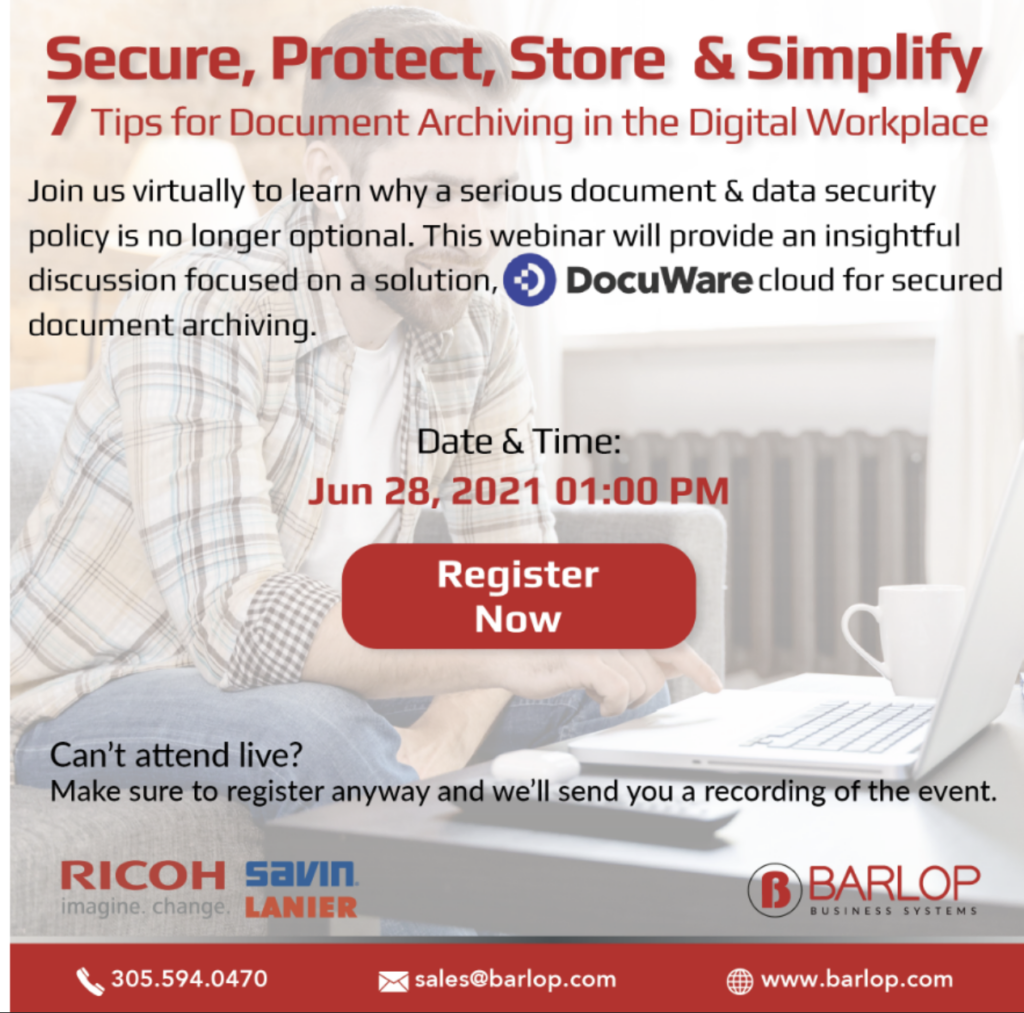 Enhance efficiency as you find and retrieve all related documents with one search; sort and filter to narrow searches for faster results

Focus on strategy and growth as you reduce manual document handling tasks with automated capture, indexing, routing and archiving

Be more agile and competitive as you can respond to customer and business needs faster
See Hightlights on DocuWare here:
DocuWare is an intuitive digital workflow solution that securely captures, moves and archives documents across your processes. By removing the hassle of manual tasks and the headaches of cluttered shared drives, you open more time to focus on the deeper work that matters. Available via cloud or on-premises, DocuWare is powerful enough to operate as a stand-alone workflow solution or as an integrated extension of your financial, HR or sales software.
Accounting: Accelerate AR and AP processes and simplify audits with transparent digital workflows.

Human Resources: Streamline onboarding processes and securely store sensitive personnel documents.

Customer Service: Enhance the customer experience with quick response and timely information to build lasting loyalty.

Sales: Equip both field and in-house sales staff with mobile access to current price lists, proposals and contracts, and never miss a sale.

And much more: Over 12.000 satisfied customers in 90 countries use DocuWare in manufacturing, government, nonprofit, education, healthcare, automotive, logistics, and more.