Your business needs to securely send and receive Documents from anywhere. Faxing remains an essential tool for transmitting sensitive information especially in the healthcare, government, and financial industries. As a Document communications platform, Fax delivers security, however its time to reduce your costs, streamlines workflows and facilitate regulatory compliance with a upgraded and more affordable version of Faxing!
Did you know analog Lines are being Retired ? – Barlop's XM Fax can help! This may not be news for some of you, but telecom carriers are…decommissioning their copper wire-based networks. "Networks are aging, parts are unavailable, and technicians are retiring. If your organization uses copper-based services, make a plan to eliminate them quickly …With currently 40 million plain old telephone services (POTS) lines in the U.S., this cash cow of the telecom industry has become much more expensive for carriers to maintain and support." (Consultant Perspectives by Denise Munro, December, 2021).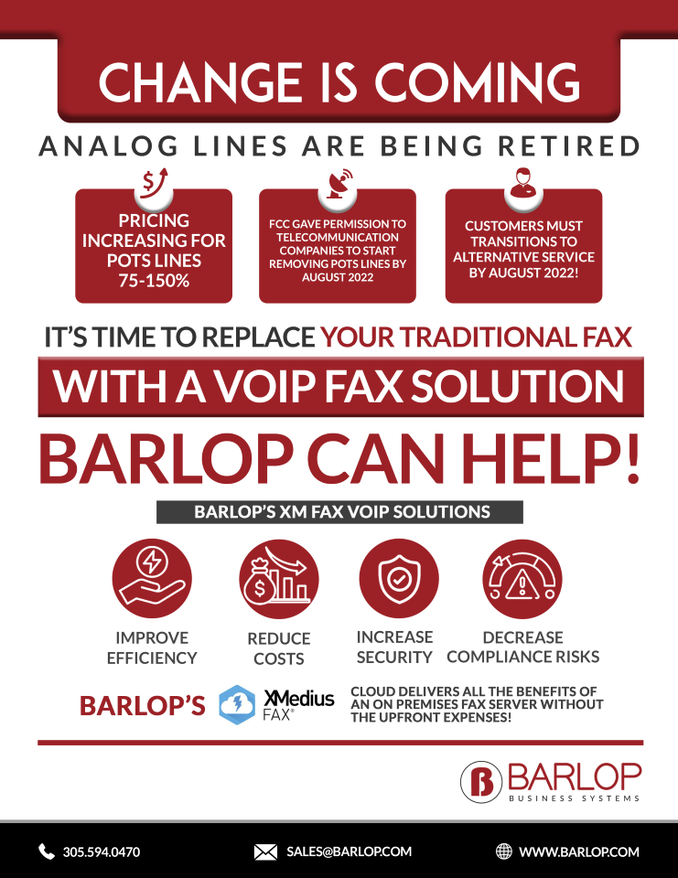 FCC gave permission to start sunsetting POTS lines in 2017
FCC has granted a forbearance request obligation from companies supplying copper POTS lines starting… August 2022.
South Florida Businesses need a solution that is:
Cost-effective
Seamless
Reliable
and Sends & receive faxes anywhere – not just in the office.
Barlop's XM Fax can help your Business by providing:
Market leading digital fax capability
Professional Services Onboarding
Ease of use for the customer
Added security
Reliable, cost-effective faxing
Compliance with HIPAA, FERPA, SOX, and more
OpenText XMFA delivers a Return on investment by eliminating te needs for expensive TDM phone lies, unrealible devices, and associated consumables. Faxes are sent from and delivered to employees in the manner that best suits their individual workflow needs. XM Fax improves efficiency, and enables secure faxing from anywhere!